I'm making it a new goal of mine to laugh at my husband more often.
You may think this sounds mean, but it was pretty much requested.
Now I do think Chris is funny, but sometimes, ok most of the time, I don't laugh at him.
I find myself thinking (while he is doing something that he is hoping gets a laugh)
"Would someone else be laughing at him if they were seeing this?"
And the answer is probably yes.
But after seven years of marriage, I guess I am not quite as amused anymore.
But it is time to change that.
So next time he is making up his own rap songs in the car, or comes into the kitchen making ridiculous (slightly annoying) sounds and noises, or treating Molly like she's a human, or making up a joke that he thinks is so funny he can barely get the joke out . . .
I am going to do my best to throw out a completely amused, impressed and genuine laugh.
P.S. Want to follow me on instagram?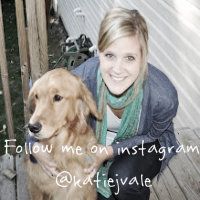 .
Sometimes I feel like a loser, and continually scroll through my instagram feed without seeing any new pictures. Which only means I need more people to follow, so leave me your name so I can follow you back.
Sunday Funday
Monday Mingle
YOLO Mondays
Monday Meet Up