shirt: old navy skirt: target tights: kohls shoes: old navy
I was so committed to taking a new outfit picture today, I did so despite the snow/hail that was coming down. Only to go inside and have it stop 5 minutes later. But it was too late. Because you know that I spend just about zero time in anything other than sweatpants when I am home.
So you're left with a snow interrupted picture.
Speaking of snow, we've had about zero of it and I would LOVE it to snow before Christmas, and we are running out of time!
But more than having a white Christmas, my favorite thing about this time of the year is the traditions that my family has. When we got married, I know that Chris thought my family may be a little overboard with our yearly traditions, but now he either loves it or knows not to say anything.
On Christmas Eve we always read the Christmas story from the Bible. When we were little we used to dress up as one of the "characters" from the story. There was always a fight between my sister and I about who got to be Mary, and clearly based on the two pictures I found she won more than me.

An angel is just as important though right?
Better than a sheep, which I did resort to one year.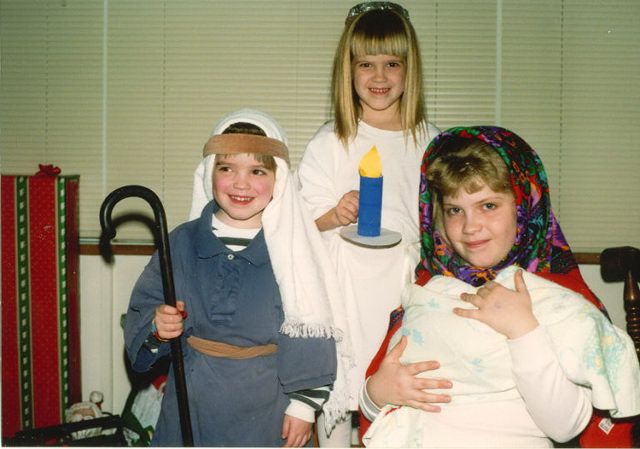 And I was clearly working hard at playing the manly part of Joseph.
I'm so thankful that many family started traditions like this, and while we don't dress up anymore I think it's time for my nephew to start the tradition over!
What is your favorite Christmas tradition?